Decorating your home with the Oriental or Persian rug is a general accomplishment that needs a mix of insight and personal taste. It is because everybody is always seeking new ways to communicate their feelings, no matter what they are doing. It could be due to having some flashy pieces to show your interests, or it could be one particular exceptional piece that you think embodies your personality.
Different people express themselves in different ways, irrespective of the form. That's where Oriental rugs come into play. These handmade beauties, each having their own peculiarity, olden times and styles are in a different embodiment that can fit any home.
Read on to know why you should include an Oriental or Persian rug in your home.
1. Absolute Originality
All the products available in the market these days are aiming to sell themselves as "absolutely original" after being put together in a machine programmed factory. Well, when it comes to Oriental rugs, this is not the situation.
It is because each Oriental or Persian rug is 100% handmade knot by knot and dyes for dye. As a result, no two Oriental rugs are looking alike—including carpets of the same style!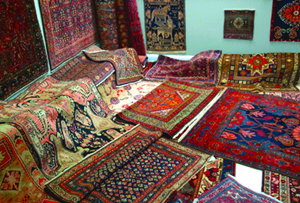 2. Durable And Original
All the Oriental rugs manufactured are durable and unique. An Oriental rug can last for many years due to the traditional way it was crafted. In fact, this rug can last a lifetime.
3. Abundance Of History
All Oriental rugs come with a wealth of history. On the other hand, they have their own styles such as their own dates. For instance, Oriental rugs can be traced from the last century to the past 400 years. You can imagine the amount of knowledge incorporated in crafting these rugs from one century to another.
4. Adaptability
Flexibility is an inherent characteristic of an Oriental rug. It comes in different forms: presentation, style, size, and color. That is not common to only Oriental rugs—other brands like the Indian or Persian rug also has this adaptableness.
5. Pedigree
An abundance of history originates from a lineage of ancestry. These particular pieces have been persistently favorite and demanded for 400 years. Over the course of time, the method of crafting handmade rugs has remained regular. As time went by, Indian rugs, Persian rugs, and Oriental rugs—have been very fashionable.
Irrespective of the brand or style, each carpet has a tale to tell. In addition, every single feature of the Oriental rug has its own story incorporated into each fiber—the design type, the weaving technique, and the dyes used.
6. Stylized
As mentioned earlier, every single Oriental rug is handmade. As a result, several ways of styles and creation have been established. Oriental rugs are versatile for many reasons—their unique stylistic approaches remain above this quality.
If you are thinking of the styles you have at your disposal to choose from, they include Peshawar, Oushak, HERIZ, Serapi, Tabriz, Kashan, Kazak, and many more. Each of these styles comes with their specific approaches to color, their designs, and formats of size.